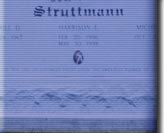 Clayton Huff
Monument Works
3370 Huff Road
Lonedell, MO 63060
636-629-7500
877-629-7500 toll free
636-629-5646 fax
Click Here for Email





Portfolio Categories:

To view our photo albums, please click on the appropriate category.

Upright: Usually 6" or 8" thick and placed on a base stone which is then placed on a concrete foundation. They come in many shapes, both standard and custom, such as boulders, jagged slabs of granite, pyramid shaped, etc..
Slant Memorials: These are thicker at the bottom and taper to the top. The face of the stone is at about a 60 degree angle. They can be used with or without a granite sub base.

Flat markers: Also referred to as grass markers. They can be fashioned in a variety of shapes and sizes. In addition, a core hole may be cut for the purpose of an in ground vase unit.
Bevel (pillow or hickey) markers: The bevel is somewhat of a cross between a slant and a flat marker. It sits low to the ground, but the face is slightly tilted.

The great advantage of a stone sign is that minimal maintenance is required. Granite or limestone signs can add a whole new dimension and quality to your business, church, or subdivision. Both elegant and practical, stone signs can help create the professionalism you're looking for. We can help design a sign to meet your needs using one of our many colors of stone, as well as the many letter styles to choose from.

We have a large selection of bronze markers, single and companions, from which you can choose. Ground unit vases are also available. Cast aluminum and bronze plaques are available for dedications, awards and recognition, commemorative, identification, and signage

Landscaping Accessories:

Our fine selection of landscaping accessories will give your home or business that extra special look. Granite benches, birdbaths, garden stones, and sundials are but a few of the things we have to offer.